This slow cooker pulled pork recipe is extremely easy to make, but yields fall-apart tender, flavorful bbq pulled pork. It's perfect for a stress-free dinner, or for serving at a party. (Who can complain when pulled pork sandwiches and pulled pork nachos are on the menu?)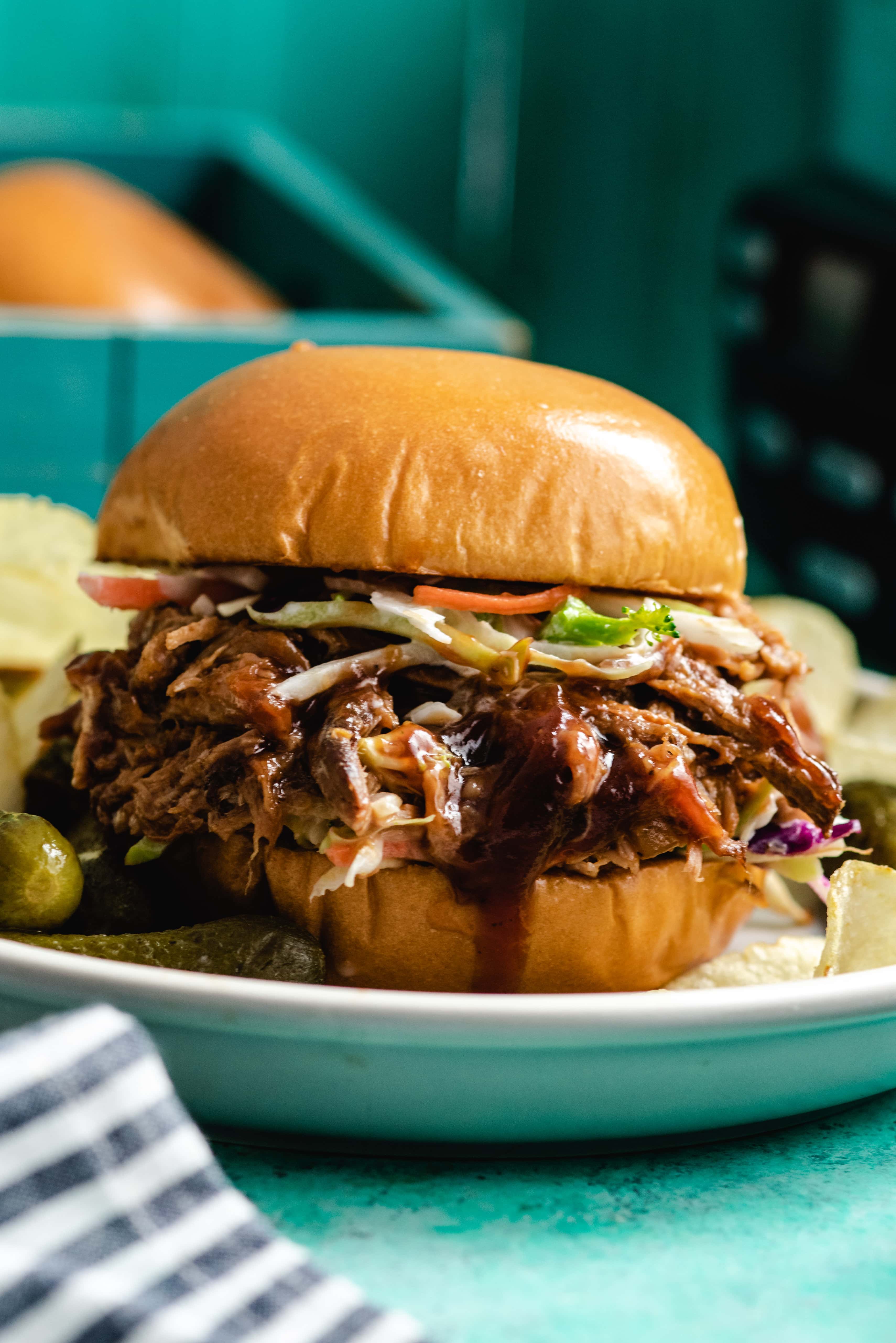 I'm not a food snob.
I eat freezer meals decently often. I make recipes that use pop-can biscuit dough from time-to-time. I won't even yell at you if you put green peppers on your cheesesteaks. But when it comes to pulled pork, I don't mess around. I want pork that's smoky with a little spice and a little sweetness, but doesn't overwhelm the flavor of the meat. So tender that it starts to fall apart as you transfer it to a plate, and then shreds as if there was never anything holding it together in the first place. Super juicy, not a hint of dryness in a single bite. And I won't accept anything less.
For a long time, that meant that I avoided most slow cooker pulled pork recipes, but in preparation for the Super Bowl, I decided I wanted to perfect one for myself.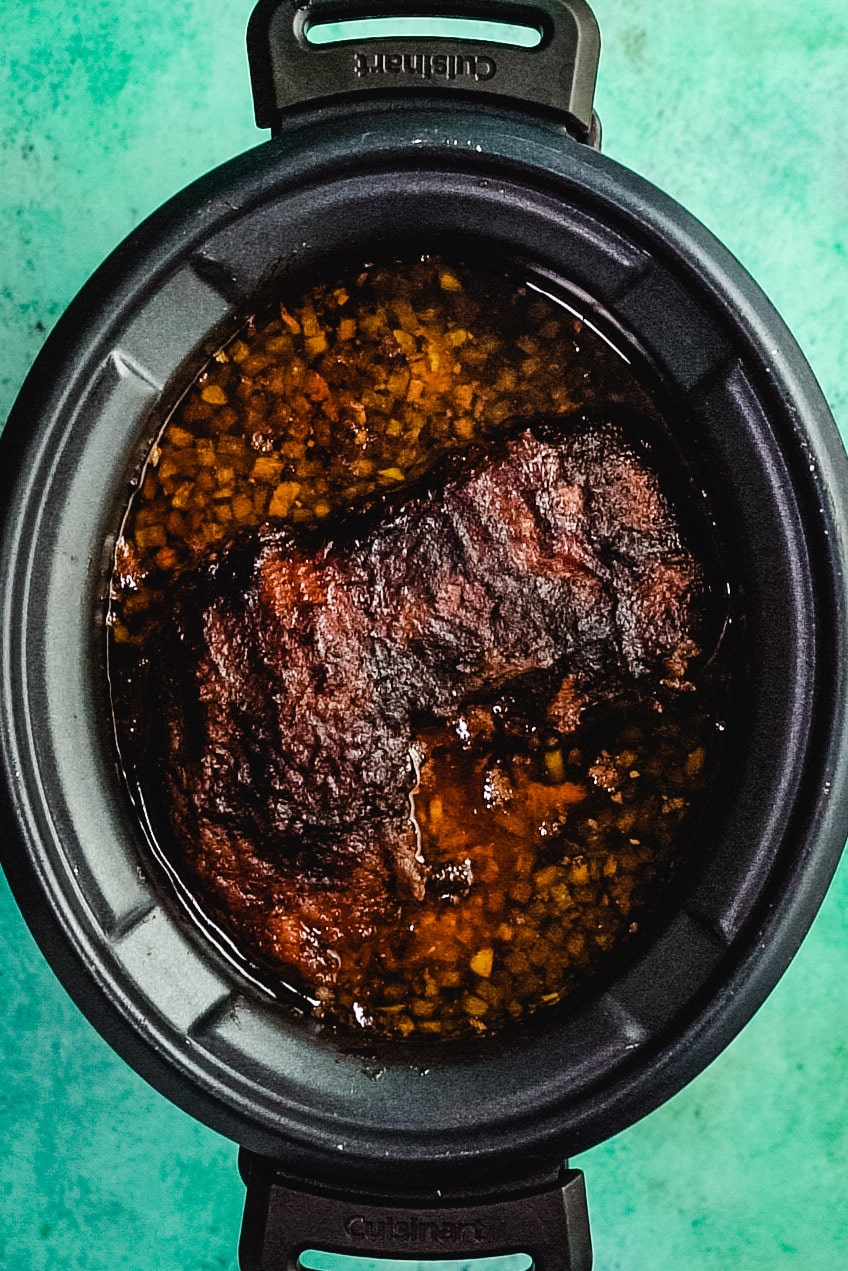 HOW TO MAKE PULLED PORK IN THE SLOW COOKER
In order to make truly delicious slow cooked pulled pork, there are a few things you have to do.
Use a cut of pork with a good amount of intramuscular fat and marbling, like pork butt or pork shoulder.

That fat will eventually melt in the slow cooker, leaving you with juicy, tender pulled pork that will shred easily. Less fatty cuts will get tough and dry out when slow cooked.
Add a little liquid to the slow cooker, but not too much!

Liquid at the bottom of the slow cooker serves three purposes. The first is no different than what you'd expect from cooking on the stove– a bit of liquid prevents ingredients that are on the bottom of the pot from getting too hot and sticking or burning. The second is that these liquids combine with the liquids released by the pork as it cooks to create flavorful juices for serving over the pulled pork. The last is that acidic ingredients like apple cider vinegar and bbq sauce help in tenderizing the meat as it cooks. However, be sure not to add too much, as the pork itself will release a lot of liquid as well, and you don't want your slow cooker to overfill. 
Rub the meat for extra flavor.

Like any good recipe, excellent bbq pulled pork requires some tasty spices. I use bbq-inspired ingredients like brown sugar, smoked paprika, chili powder, cumin, mustard powder, and of course salt and pepper to ensure that the pulled pork has plenty of seasonings. This also helps to flavor the drippings which we'll add back to the pork after it's shredded.
Cook it low and slow.

I know, I know. You don't have

that much

time so you want to crank up the slow cooker to high and let it work overtime. You can do that, but I'll warn you in advance: it won't be as good. It'll be harder to shred, and a bit dryer. If you can manage about 10 hours in the slow cooker (give or take, depending on your specific slow cooker),

low is the way to go

. If you absolutely

must

get it done faster, try starting off on high heat for a few hours and then finishing on low until it shreds easily. 
Don't waste the juices.

I mentioned it a few times already, but once you shred the pulled pork, spoon over some of the juices from the slow cooker. You won't want to use all of it (there will be a lot), but the juices will keep your pork tender, flavorful, and delicious.
Use a barbecue sauce that you love.

I know, it's controversial to start with a premade barbecue sauce, but honestly, anything you're going to whip together with just a few ingredients in the slow cooker is not going to be as delicious. The addition of more spices and the additional liquid ingredients is great for doctoring things up, but trust your favorite bbq sauce to do some of the heavy lifting here. I personally use Sweet Baby Ray's.
CAN I MAKE SLOW COOKER BBQ PULLED PORK AHEAD OF TIME?
Yes, you can make this slow cooker pulled pork recipe ahead. Made fully ahead, it will keep in the refrigerator for 4-5 days, or the freezer for 3 months before reheating. You can reheat in the slow cooker or in the microwave, if desired. You may have to add back a little bb1 sauce, as it tends to get absorbed as it sits.
You also can begin cooking this pulled pork up to SIXTEEN HOURS before serving, as long as you keep it on low heat. It's pretty difficult (not impossible, but difficult) to overcook, so don't be afraid to keep it going for a bit longer than the recipe suggests, if necessary. 
You can keep the pulled pork on the "warm" setting in your slow cooker for up to 4 hours.
WHAT TO SERVE WITH PULLED PORK
I generally like to use my pulled pork in two ways: sandwiches or nachos. 
For sandwiches, I always love a perfectly toasted brioche bun, but slider buns also work well for serving a crowd. I like to add a little coleslaw, which I usually make with broccoli slaw or power blends rather than the regular coleslaw mixture. I've even made Honey Jalapeno Lime Slaw in the past for my Sweet and Spicy Pulled Pork (another favorite!), which is fantastic.
For nachos, I simply scatter tortilla chips on a lined baking sheet, spoon over pulled pork, top with shredded cheese, and bake until the cheese is melted. Then I top with chopped jalapeno, chopped red onion, and sometimes even more cheese sauce, like the kind I made in this Cheesesteak Sheet Pan Nacho recipe!
As far as side dishes go, you can't beat some amazing Baked Mac N Cheese, Cornbread, Potato Wedge Fries, Green Beans, and Baked Beans.
WATCH THE SLOW COOKER BBQ PULLED PORK VIDEO
Print
Slow Cooker BBQ Pulled Pork
---
Author:

Total Time:

10 hours 20 mins

Yield:

14

-

16

servings

1

x
1

cup

bbq sauce, plus more to serve

1/2

cup

chicken stock or low-sodium chicken broth

1/4

cup

apple cider vinegar

1 teaspoon

liquid smoke

1

medium yellow onion, chopped

4

cloves garlic, minced

1

(4 to 5-pound) pork shoulder
FOR THE SPICE MIXTURE:
1/4

cup

dark brown sugar

2 tablespoons

smoked paprika

1 tablespoon

kosher salt

2 teaspoons

chili powder

2 teaspoons

black pepper

1 teaspoon

ground cumin

1 teaspoon

mustard powder

1/2 teaspoon

cayenne powder
TO SERVE:
Brioche burger buns, toasted
Coleslaw
---
Instructions
In the bowl of a slow cooker, whisk together the bbq sauce, chicken stock, apple cider vinegar, and liquid smoke. Add in the onions and garlic and stir to combine.
Combine all of the spices in a small bowl and rub all around the pork, including inside any folds in the meat. There should not be any remaining spices when finished.
Place the pork in the slow cooker, cover, and cook on low until easily shredded with a fork, about 10 hours. Remove the pork from the slow cooker and shred.
Ladle over some of the juices from the slow cooker. Top with extra bbq sauce and toss.
Serve on toasted brioche buns with coleslaw, if desired.
Prep Time:

20 mins

Cook Time:

10 hours